Tomorrow (9th February) is Nasya's birthday!
Today, last year, she went for an oral surgery and took out 6 teeth and this was her face look like. All swollen, until 1 week after. No cake whatsoever, even though I booked a cake from Kak Anna of bake-freshly. I cancel the order last minute because I dont know whether she can eat it or not. More to worry on how to clean her mouth after that.
She was on soft diet for one week and thank God I was a WAHM that time.
8 Feb 2011

Tonite, she was the same person, bubbly, happy and full of imagination. I bought her a slice of cake from Secret Recipe ended up shes not eating it. And tomorrow we gonna pick her cake I ordered from Kak Anna again. Simple cake for her school celebration and the final celebration in on 25th! Still cannot decide on the cake.
Happy birthday my little girl! I want to baby you all the time but I love to see you grow, talk and think like an adult. See, if I can make one of your wish come true within this year...(ehem ;))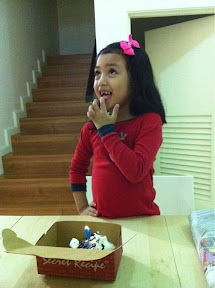 8 Feb 2012

{Blogging from my phone}