I instagram this during the long weekend, and almost buying it, but I didnt. Im sparing lots of cash to send my car for service this weekend.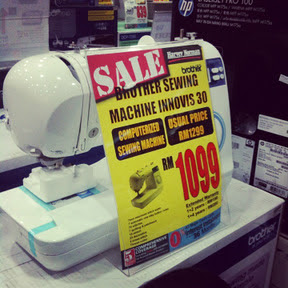 Sorry for the long absence. Too occupied with work and sewing and flu and fever! In fact now Im still on running nose...
Now im blogging while lying next to Nasya. Next week is her birthday and I ordered a cake so that she can celebrate with friends at school. :)
And throwing her a party as well, inviting some friends but the last minute me didnt prepare anything yet as of now. Too many work in the office :S
First batch of new fabric is here, hopefully the other 2 will arrive by friday. And im thinking to change the ordering page hmmmm...
Icing of the cake of all these todo list is, unifi is installed today but the download speed is so ridiculous slow that turns me off. The fact that they hack my wall also not helping, hence this blogging from bed activity.
But after reciting yaasin, I am more relax and excited for tomorrow coz I want to make a complaint and want them to pull everything if they still cannot meet the criterias. Fair square.
Ok, this is long, i will try my best to blog more. Juju and I plan to visit sewing machine shop this Friday. Cant wait!
Xoxo
{Blogging from my phone}